This has been going on for a while (2.13.3 - 2.14), seems to be related to DDF for Tuya plugs. I managed to collect some clues and a bit of logging.
Deconz is running fine with 5 existing BW-SHP15 plugs (they report every few seconds), as long as I stay away from DDF. I have this DDF setting and no custom DDF files in use or loaded: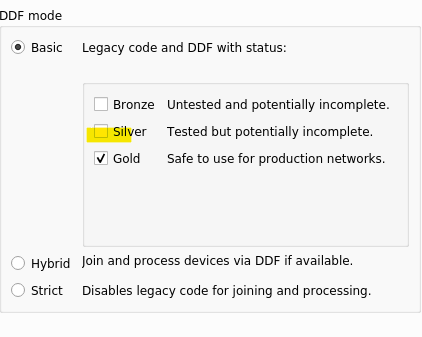 As soon as I enable Silver, the built-in NEO DDF is picked up and something happens that slows down deconz. I also see that the existing BW-SHP15 plugs do not update as often any more in Homey (my third party app).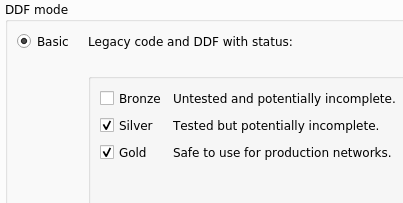 From the log:
13:37:44:523 DEV found DDF for 0x84FD27FFFECE99DC, path: /usr/share/deCONZ/devices/neo/NAS-WR01B.json
Note that 0x84xxxx devices are BW-SHP15 plugs (_TZ3000_mraovvmm), not a Neo plug (the same TS011F family, but a different manufacturer code).
I also noticed that RAM usage keeps increasing for the Docker container (normally it's rock solid at <150MB and <2% CPU for weeks):


When this happens, the api doesn't seem to update power consumption etc any more, and n the log I see a lot of these:
14:16:35:247 No power sensor found for 0x84FD27FFFECE7BEA, endpoint: 0x01
In the end I had to restore yesterday's database and all was well again.
Is there a thorougly tested Tuya Plug DDF available? Can someone with Tuya Plugs else please check if they are seeing similar? Or maybe one of the devs has a clue what could cause this behavior? Maybe @manup or @Smanar?

I managed to copy some Info L1 + L2 log from vnc.
13:37:44:523 DEV found DDF for 0x84FD27FFFECE99DC, path: /usr/share/deCONZ/devices/neo/NAS-WR01B.json
13:37:44:670 DEV found DDF for 0x588E81FFFEFF604D, path: 
13:37:47:025 ZCL attribute report 0x84FD27FFFECE7C45 for cluster: 0x0B04, ep: 0x01, frame control: 0x18, mfcode: 0x0000 
13:37:47:041 ZCL attribute report 0x84FD27FFFED24544 for cluster: 0x0006, ep: 0x01, frame control: 0x18, mfcode: 0x0000 
13:37:47:042 SC tick --> StateRead
13:37:47:043 SC state change failed: 84:fd:27:ff:fe:d2:45:44-01
13:37:48:042 ZCL attribute report 0x84FD27FFFED245B2 for cluster: 0x0B04, ep: 0x01, frame control: 0x18, mfcode: 0x0000 
13:37:48:070 ZCL attribute report 0x84FD27FFFED24544 for cluster: 0x0B04, ep: 0x01, frame control: 0x18, mfcode: 0x0000 
13:37:48:099 Skip idle timer callback, too early: elapsed 54 msec
13:37:48:132 DEV found DDF for 0xBC33ACFFFE2BF652, path: 
13:37:49:493 ZCL attribute report 0x84FD27FFFECE7C45 for cluster: 0x0B04, ep: 0x01, frame control: 0x18, mfcode: 0x0000 
13:37:50:442 ZCL attribute report 0x84FD27FFFECE7BEA for cluster: 0x0B04, ep: 0x01, frame control: 0x18, mfcode: 0x0000 
13:37:50:443 Skip idle timer callback, too early: elapsed 946 msec
13:37:50:452 DEV found DDF for 0x00158D000520F443, path: 
13:37:50:600 DEV found DDF for 0x00158D000520E453, path: 
13:37:50:732 ZCL attribute report 0x00158D0004AB3C58 for cluster: 0x0406, ep: 0x01, frame control: 0x18, mfcode: 0x0000 
13:37:51:294 ZCL attribute report 0x84FD27FFFECE99DC for cluster: 0x0B04, ep: 0x01, frame control: 0x18, mfcode: 0x0000 
13:37:52:410 ZCL attribute report 0x84FD27FFFECE7C45 for cluster: 0x0B04, ep: 0x01, frame control: 0x18, mfcode: 0x0000 
13:37:53:429 ZCL attribute report 0x84FD27FFFECE7BEA for cluster: 0x0B04, ep: 0x01, frame control: 0x18, mfcode: 0x0000 
13:37:53:430 DEV found DDF for 0x5C0272FFFE741651, path: 
13:37:53:432 Skip idle timer callback, too early: elapsed 646 msec
13:37:53:512 DEV found DDF for 0x00158D000520ABA2, path: 
13:37:54:815 ZCL attribute report 0x84FD27FFFECE99DC for cluster: 0x0B04, ep: 0x01, frame control: 0x18, mfcode: 0x0000 
13:37:54:829 ZCL attribute report 0x00158D00058A29AD for cluster: 0x0402, ep: 0x01, frame control: 0x18, mfcode: 0x0000 
13:37:54:843 ZCL attribute report 0x00158D00058A29AD for cluster: 0x0405, ep: 0x01, frame control: 0x18, mfcode: 0x0000 
13:37:54:848 ZCL attribute report 0x00158D00058A29AD for cluster: 0x0403, ep: 0x01, frame control: 0x18, mfcode: 0x0000 
13:37:54:868 DEV found DDF for 0x00158D000520E7C9, path: 
13:37:55:099 Skip idle timer callback, too early: elapsed 282 msec
13:37:55:818 DEV found DDF for 0x00158D000520A838, path: 
13:37:56:768 DEV found DDF for 0x00158D000530371F, path: 
13:37:58:058 ZCL attribute report 0x84FD27FFFECE99DC for cluster: 0x0B04, ep: 0x01, frame control: 0x18, mfcode: 0x0000 
13:37:58:746 ZCL attribute report 0x04CF8CDF3C7D1330 for cluster: 0x0400, ep: 0x01, frame control: 0x18, mfcode: 0x0000 
13:37:58:748 Skip idle timer callback, too early: elapsed 687 msec
13:37:58:760 DEV found DDF for 0x00158D000520AB43, path: 
13:37:59:325 ZCL attribute report 0x84FD27FFFED245B2 for cluster: 0x0B04, ep: 0x01, frame control: 0x18, mfcode: 0x0000 
13:37:59:381 DEV found DDF for 0x00158D000520A8A7, path: 
13:38:00:101 Skip idle timer callback, too early: elapsed 773 msec
13:38:00:331 DEV found DDF for 0x00158D000520E69E, path: 
13:38:00:919 ZCL attribute report 0x84FD27FFFECE7C45 for cluster: 0x0B04, ep: 0x01, frame control: 0x18, mfcode: 0x0000 
13:38:02:572 ZCL attribute report 0x84FD27FFFECE7BEA for cluster: 0x0B04, ep: 0x01, frame control: 0x18, mfcode: 0x0000 
13:38:02:583 ZCL read attr 0x84FD27FFFECE979C, ep: 0x01, cl: 0x0006, attr: 0x0000, mfcode: 0x0000, aps.id: 198, zcl.seq: 150
13:38:02:584 ZCL attribute report 0xBC33ACFFFE2BF652 for cluster: 0x0008, ep: 0x01, frame control: 0x08, mfcode: 0x0000 
13:38:02:615 Device TTL 1137 s flags: 0x7
13:38:02:941 ZCL attribute report 0x04CF8CDF3C7D1330 for cluster: 0x0400, ep: 0x01, frame control: 0x18, mfcode: 0x0000 
13:38:03:233 ZCL attribute report 0x04CF8CDF3C7D199E for cluster: 0x0400, ep: 0x01, frame control: 0x18, mfcode: 0x0000 
13:38:03:395 ZCL read report config, ep: 0x01, cl: 0x0006, mfcode: 0x0000, aps.id: 209, zcl.seq: 151
13:38:04:717 ZCL attribute report 0x84FD27FFFECE7C45 for cluster: 0x0B04, ep: 0x01, frame control: 0x18, mfcode: 0x0000 
13:38:04:737 ZCL configure reporting ep: 0x01, cl: 0x0006, mfcode: 0x0000, aps.id: 213, zcl.seq: 152
13:38:04:807 ZCL read report config, ep: 0x01, cl: 0x0702, mfcode: 0x0000, aps.id: 215, zcl.seq: 153
13:38:04:871 ZCL read report config, ep: 0x01, cl: 0x0B04, mfcode: 0x0000, aps.id: 217, zcl.seq: 154
13:38:04:977 ZCL attribute report 0xBC33ACFFFE2BF652 for cluster: 0x0006, ep: 0x01, frame control: 0x08, mfcode: 0x0000 
13:38:05:185 ZCL read attr 0x84FD27FFFECE979C, ep: 0x01, cl: 0x0006, attr: 0x0000, mfcode: 0x0000, aps.id: 224, zcl.seq: 155
13:38:05:222 ZCL read attr 0x84FD27FFFECE979C, ep: 0x01, cl: 0x0000, attr: 0x4000, mfcode: 0x0000, aps.id: 227, zcl.seq: 156
13:38:05:667 Skip idle timer callback, too early: elapsed 948 msec
13:38:05:671 ZCL read attr 0x84FD27FFFED24544, ep: 0x01, cl: 0x0006, attr: 0x0000, mfcode: 0x0000, aps.id: 233, zcl.seq: 158
13:38:05:729 ZCL read attr 0x84FD27FFFED24544, ep: 0x01, cl: 0x0000, attr: 0x4000, mfcode: 0x0000, aps.id: 236, zcl.seq: 159
13:38:05:806 ZCL read report config, ep: 0x01, cl: 0x0006, mfcode: 0x0000, aps.id: 238, zcl.seq: 160
13:38:05:854 ZCL configure reporting ep: 0x01, cl: 0x0006, mfcode: 0x0000, aps.id: 241, zcl.seq: 161
13:38:05:893 ZCL read report config, ep: 0x01, cl: 0x0702, mfcode: 0x0000, aps.id: 243, zcl.seq: 162
13:38:05:930 ZCL read report config, ep: 0x01, cl: 0x0B04, mfcode: 0x0000, aps.id: 246, zcl.seq: 163
13:38:07:290 ZCL attribute report 0x84FD27FFFECE7C45 for cluster: 0x0B04, ep: 0x01, frame control: 0x18, mfcode: 0x0000 
13:38:07:599 Skip idle timer callback, too early: elapsed 306 msec
13:38:10:287 ZCL attribute report 0x84FD27FFFECE7C45 for cluster: 0x0B04, ep: 0x01, frame control: 0x18, mfcode: 0x0000 
13:38:11:385 ZCL attribute report 0x84FD27FFFECE7BEA for cluster: 0x0B04, ep: 0x01, frame control: 0x18, mfcode: 0x0000 
13:38:11:600 Skip idle timer callback, too early: elapsed 211 msec
13:38:12:144 ZCL attribute report 0x04CF8CDF3C7D1330 for cluster: 0x0400, ep: 0x01, frame control: 0x18, mfcode: 0x0000 
13:38:13:420 ZCL attribute report 0x84FD27FFFECE7BEA for cluster: 0x0B04, ep: 0x01, frame control: 0x18, mfcode: 0x0000 
13:38:14:567 ZCL attribute report 0x00158D000466638E for cluster: 0x0400, ep: 0x01, frame control: 0x18, mfcode: 0x0000 
13:38:14:587 ZCL attribute report 0x00158D000466638E for cluster: 0x0406, ep: 0x01, frame control: 0x18, mfcode: 0x0000 
13:38:16:292 ZCL attribute report 0x84FD27FFFECE7C45 for cluster: 0x0B04, ep: 0x01, frame control: 0x18, mfcode: 0x0000 
13:38:17:859 ZCL attribute report 0x84FD27FFFECE7BEA for cluster: 0x0B04, ep: 0x01, frame control: 0x18, mfcode: 0x0000 
13:38:18:555 [INFO] - No button map for: TS011F, unicast to: 0x0000, endpoint: 0x01, cluster: 0x0B04, command: 0x0A, payload: 0805212D01, zclSeq: 69
13:38:18:556 ZCL attribute report 0x84FD27FFFED245B2 for cluster: 0x0B04, ep: 0x01, frame control: 0x18, mfcode: 0x0000 
13:38:18:556 	payload: 0805212d01
13:38:18:561 Websocket 172.17.0.1:41940 send message: {"e":"changed","id":"277","r":"sensors","state":{"current":301,"lastupdated":"2022-01-30T13:38:17.878","power":53,"voltage":229},"t":"event","uniqueid":"84:fd:27:ff:fe:d2:45:b2-01-0b04"} (ret = 186)
13:38:21:529 [INFO] - No button map for: TS011F, unicast to: 0x0000, endpoint: 0x01, cluster: 0x0B04, command: 0x0A, payload: 080521FA000B05292800, zclSeq: 59
13:38:21:530 ZCL attribute report 0x84FD27FFFECE7C45 for cluster: 0x0B04, ep: 0x01, frame control: 0x18, mfcode: 0x0000 
13:38:21:530 	payload: 080521fa000b05292800
13:38:21:538 Websocket 172.17.0.1:41940 send message: {"e":"changed","id":"268","r":"sensors","state":{"current":250,"lastupdated":"2022-01-30T13:38:19.440","power":40,"voltage":234},"t":"event","uniqueid":"84:fd:27:ff:fe:ce:7c:45-01-0b04"} (ret = 186)
13:38:21:540 Websocket 172.17.0.1:41940 send message: {"e":"changed","id":"267","r":"sensors","state":{"consumption":20970,"lastupdated":"2022-01-30T13:38:19.874","power":40},"t":"event","uniqueid":"84:fd:27:ff:fe:ce:7c:45-01-0702"} (ret = 178)
13:38:23:127 [INFO] - No button map for: TS011F, unicast to: 0x0000, endpoint: 0x01, cluster: 0x0B04, command: 0x0A, payload: 0B05292100, zclSeq: 122
13:38:23:128 ZCL attribute report 0x84FD27FFFECE7BEA for cluster: 0x0B04, ep: 0x01, frame control: 0x18, mfcode: 0x0000 
13:38:23:128 	payload: 0b05292100
13:38:23:129 Websocket 172.17.0.1:41940 send message: {"e":"changed","id":"270","r":"sensors","state":{"current":339,"lastupdated":"2022-01-30T13:38:21.618","power":33,"voltage":232},"t":"event","uniqueid":"84:fd:27:ff:fe:ce:7b:ea-01-0b04"} (ret = 186)
13:38:23:130 Websocket 172.17.0.1:41940 send message: {"e":"changed","id":"269","r":"sensors","state":{"consumption":23980,"lastupdated":"2022-01-30T13:38:22.742","power":33},"t":"event","uniqueid":"84:fd:27:ff:fe:ce:7b:ea-01-0702"} (ret = 178)
13:38:23:133 Daylight now: solarNoon, status: 170, daylight: 1, dark: 0
13:38:24:740 [INFO] - No button map for: TS011F, unicast to: 0x0000, endpoint: 0x01, cluster: 0x0B04, command: 0x0A, payload: 0B05293100, zclSeq: 70
13:38:24:740 ZCL attribute report 0x84FD27FFFED245B2 for cluster: 0x0B04, ep: 0x01, frame control: 0x18, mfcode: 0x0000 
13:38:24:741 	payload: 0b05293100
13:38:25:940 [INFO] - No button map for: TS011F, unicast to: 0x0000, endpoint: 0x01, cluster: 0x0B04, command: 0x0A, payload: 050521EA000B05292A00, zclSeq: 60
13:38:25:941 ZCL attribute report 0x84FD27FFFECE7C45 for cluster: 0x0B04, ep: 0x01, frame control: 0x18, mfcode: 0x0000 
13:38:25:941 	payload: 050521ea000b05292a00
13:38:25:942 Websocket 172.17.0.1:41940 send message: {"e":"changed","id":"277","r":"sensors","state":{"current":301,"lastupdated":"2022-01-30T13:38:23.149","power":49,"voltage":229},"t":"event","uniqueid":"84:fd:27:ff:fe:d2:45:b2-01-0b04"} (ret = 186)
13:38:25:943 Websocket 172.17.0.1:41940 send message: {"e":"changed","id":"276","r":"sensors","state":{"consumption":17360,"lastupdated":"2022-01-30T13:38:24.299","power":49},"t":"event","uniqueid":"84:fd:27:ff:fe:d2:45:b2-01-0702"} (ret = 178)
13:38:25:945 Websocket 172.17.0.1:41940 send message: {"e":"changed","id":"268","r":"sensors","state":{"current":250,"lastupdated":"2022-01-30T13:38:25.670","power":42,"voltage":234},"t":"event","uniqueid":"84:fd:27:ff:fe:ce:7c:45-01-0b04"} (ret = 186)
13:38:25:947 Websocket 172.17.0.1:41940 send message: {"e":"changed","id":"267","r":"sensors","state":{"consumption":20970,"lastupdated":"2022-01-30T13:38:25.672","power":42},"t":"event","uniqueid":"84:fd:27:ff:fe:ce:7c:45-01-0702"} (ret = 178)
13:38:26:400 [INFO] - No button map for: lumi.sen_ill.mgl01, unicast to: 0x0000, endpoint: 0x01, cluster: 0x0400, command: 0x0A, payload: 000021986D, zclSeq: 87
13:38:26:401 ZCL attribute report 0x04CF8CDF3C7D1330 for cluster: 0x0400, ep: 0x01, frame control: 0x18, mfcode: 0x0000 
13:38:26:402 	payload: 000021986d
13:38:26:402 Websocket 172.17.0.1:41940 send message: {"e":"changed","id":"260","r":"sensors","state":{"dark":false,"daylight":true,"lastupdated":"2022-01-30T13:38:26.073","lightlevel":28056,"lux":639},"t":"event","uniqueid":"04:cf:8c:df:3c:7d:13:30-01-0400"} (ret = 205)
13:38:30:383 [INFO] - No button map for: TS011F, unicast to: 0x0000, endpoint: 0x01, cluster: 0x0B04, command: 0x0A, payload: 0B05292800, zclSeq: 61
13:38:30:383 ZCL attribute report 0x84FD27FFFECE7C45 for cluster: 0x0B04, ep: 0x01, frame control: 0x18, mfcode: 0x0000 
13:38:30:384 	payload: 0b05292800
13:38:30:394 [INFO] - No button map for: TS011F, unicast to: 0x0000, endpoint: 0x01, cluster: 0x0B04, command: 0x0A, payload: 0B05292100, zclSeq: 125
13:38:30:395 ZCL attribute report 0x84FD27FFFECE7BEA for cluster: 0x0B04, ep: 0x01, frame control: 0x18, mfcode: 0x0000 
13:38:30:396 	payload: 0b05292100
13:38:30:396 Websocket 172.17.0.1:41940 send message: {"e":"changed","id":"268","r":"sensors","state":{"current":250,"lastupdated":"2022-01-30T13:38:26.430","power":40,"voltage":234},"t":"event","uniqueid":"84:fd:27:ff:fe:ce:7c:45-01-0b04"} (ret = 186)
13:38:30:398 Websocket 172.17.0.1:41940 send message: {"e":"changed","id":"267","r":"sensors","state":{"consumption":20970,"lastupdated":"2022-01-30T13:38:28.298","power":40},"t":"event","uniqueid":"84:fd:27:ff:fe:ce:7c:45-01-0702"} (ret = 178)
13:38:30:399 Websocket 172.17.0.1:41940 send message: {"e":"changed","id":"270","r":"sensors","state":{"current":339,"lastupdated":"2022-01-30T13:38:30.392","power":33,"voltage":232},"t":"event","uniqueid":"84:fd:27:ff:fe:ce:7b:ea-01-0b04"} (ret = 186)
13:38:30:400 Websocket 172.17.0.1:41940 send message: {"e":"changed","id":"269","r":"sensors","state":{"consumption":23980,"lastupdated":"2022-01-30T13:38:30.393","power":33},"t":"event","uniqueid":"84:fd:27:ff:fe:ce:7b:ea-01-0702"} (ret = 178)
13:38:30:401 poll node 5c:02:72:ff:fe:74:16:51-01
13:38:30:402 Poll light node Keuken Spot 1
13:38:30:404 Idle timer triggered
13:38:30:405 Force read attributes for ZHAConsumption SensorNode Consumption 161
13:38:30:405 Force binding of attribute reporting for node Consumption 161
13:38:30:491 Node data 0x588e81fffed38ebc profileId: 0x0104, clusterId: 0x0702
13:38:30:493 0x588E81FFFED38EBC: update ZCL value 0x01/0x0702/0x0000 after 0 s
13:38:30:494 [INFO] - No button map for: TS0121, unicast to: 0x0000, endpoint: 0x01, cluster: 0x0702, command: 0x0A, payload: 000025130100000000, zclSeq: 57
13:38:30:495 ZCL attribute report 0x588E81FFFED38EBC for cluster: 0x0702, ep: 0x01, frame control: 0x08, mfcode: 0x0000 
13:38:30:495 	payload: 000025130100000000
13:38:30:496 binding for attribute reporting of ep: 0x01 cluster 0x0702 seems to be active
13:38:30:496 0x588E81FFFED38EBC (TS0121) create binding for attribute reporting of cluster 0x0B04 on endpoint 0x01
13:38:30:496 queue binding task for 0x588E81FFFED38EBC, cluster 0x0B04
13:38:30:498 Websocket 172.17.0.1:41940 send message: {"e":"changed","id":"163","r":"sensors","state":{"consumption":2750,"lastupdated":"2022-01-30T13:38:30.493"},"t":"event","uniqueid":"58:8e:81:ff:fe:d3:8e:bc-01-0702"} (ret = 166)
13:38:30:499 ZCL read attr 0x84FD27FFFECE7C45, ep: 0x01, cl: 0x0006, attr: 0x0000, mfcode: 0x0000, aps.id: 60, zcl.seq: 168
13:38:30:500 Poll APS request to 0x5C0272FFFE741651 cluster: 0x0006 dropped, values are fresh enough
13:38:31:780 [INFO] - No button map for: TS011F, unicast to: 0x0000, endpoint: 0x01, cluster: 0x0B04, command: 0x0A, payload: 050521E900, zclSeq: 62
13:38:31:780 ZCL attribute report 0x84FD27FFFECE7C45 for cluster: 0x0B04, ep: 0x01, frame control: 0x18, mfcode: 0x0000 
13:38:31:781 	payload: 050521e900
13:38:31:782 Websocket 172.17.0.1:41940 send message: {"e":"changed","id":"268","r":"sensors","state":{"current":250,"lastupdated":"2022-01-30T13:38:30.516","power":40,"voltage":233},"t":"event","uniqueid":"84:fd:27:ff:fe:ce:7c:45-01-0b04"} (ret = 186)
13:38:35:414 [INFO] - No button map for: TS011F, unicast to: 0x0000, endpoint: 0x01, cluster: 0x0B04, command: 0x0A, payload: 080521FE00, zclSeq: 63
13:38:35:415 ZCL attribute report 0x84FD27FFFECE7C45 for cluster: 0x0B04, ep: 0x01, frame control: 0x18, mfcode: 0x0000 
13:38:35:415 	payload: 080521fe00
13:38:49:060 [INFO] - No button map for: TS011F, unicast to: 0x0000, endpoint: 0x01, cluster: 0x0B04, command: 0x0A, payload: 0B05292D00, zclSeq: 126
13:38:49:060 ZCL attribute report 0x84FD27FFFECE7BEA for cluster: 0x0B04, ep: 0x01, frame control: 0x18, mfcode: 0x0000 
13:38:49:061 	payload: 0b05292d00
13:38:49:062 Websocket 172.17.0.1:41940 send message: {"e":"changed","id":"268","r":"sensors","state":{"current":254,"lastupdated":"2022-01-30T13:38:31.811","power":40,"voltage":233},"t":"event","uniqueid":"84:fd:27:ff:fe:ce:7c:45-01-0b04"} (ret = 186)
13:38:49:063 Websocket 172.17.0.1:41940 send message: {"e":"changed","id":"270","r":"sensors","state":{"current":339,"lastupdated":"2022-01-30T13:38:35.444","power":45,"voltage":232},"t":"event","uniqueid":"84:fd:27:ff:fe:ce:7b:ea-01-0b04"} (ret = 186)
13:38:49:064 Websocket 172.17.0.1:41940 send message: {"attr":{"id":"269","lastannounced":null,"lastseen":"2022-01-30T13:38Z","manufacturername":"_TZ3000_mraovvmm","modelid":"TS011F","name":"Consumption 269","swversion":null,"type":"ZHAConsumption","uniqueid":"84:fd:27:ff:fe:ce:7b:ea-01-0702"},"e":"changed","id":"269","r":"sensors","t":"event","uniqueid":"84:fd:27:ff:fe:ce:7b:ea-01-0702"} (ret = 337)
13:38:49:066 Websocket 172.17.0.1:41940 send message: {"e":"changed","id":"269","r":"sensors","state":{"consumption":23980,"lastupdated":"2022-01-30T13:38:47.286","power":45},"t":"event","uniqueid":"84:fd:27:ff:fe:ce:7b:ea-01-0702"} (ret = 178)
13:38:49:067 ZCL read attr 0x84FD27FFFECE7BEA, ep: 0x01, cl: 0x0006, attr: 0x0000, mfcode: 0x0000, aps.id: 66, zcl.seq: 169
13:38:49:071 Daylight now: solarNoon, status: 170, daylight: 1, dark: 0
13:38:49:098 ZCL attribute report 0x84FD27FFFECE979C for cluster: 0x0B04, ep: 0x01, frame control: 0x18, mfcode: 0x0000 
13:38:49:098 	payload: 08052100000b05290000
13:38:49:109 Websocket 172.17.0.1:41940 send message: {"attr":{"id":"49","lastannounced":"2022-01-16T15:16:09Z","lastseen":"2022-01-30T13:38Z","manufacturername":"_TZ3000_mraovvmm","modelid":"TS011F","name":"Bed","swversion":"67","type":"On/Off plug-in unit","uniqueid":"84:fd:27:ff:fe:ce:97:9c-01"},"e":"changed","id":"49","r":"lights","t":"event","uniqueid":"84:fd:27:ff:fe:ce:97:9c-01"} (ret = 335)
13:38:50:731 [INFO] - No button map for: TS011F, unicast to: 0x0000, endpoint: 0x01, cluster: 0x0B04, command: 0x0A, payload: 050521EA00, zclSeq: 64
13:38:50:731 ZCL attribute report 0x84FD27FFFECE7C45 for cluster: 0x0B04, ep: 0x01, frame control: 0x18, mfcode: 0x0000 
13:38:50:732 	payload: 050521ea00
13:38:52:180 ZCL attribute report 0x84FD27FFFED24544 for cluster: 0x0702, ep: 0x01, frame control: 0x18, mfcode: 0x0000 
13:38:52:180 	payload: 000025830300000000
13:38:52:181 Websocket 172.17.0.1:41940 send message: {"attr":{"id":"162","lastannounced":"2022-01-16T15:16:09Z","lastseen":"2022-01-30T13:38Z","manufacturername":"_TZ3000_mraovvmm","modelid":"TS011F","name":"Power 162","swversion":null,"type":"ZHAPower","uniqueid":"84:fd:27:ff:fe:ce:97:9c-ff-0b04"},"e":"changed","id":"162","r":"sensors","t":"event","uniqueid":"84:fd:27:ff:fe:ce:97:9c-ff-0b04"} (ret = 343)
13:38:52:183 Websocket 172.17.0.1:41940 send message: {"e":"changed","id":"162","r":"sensors","state":{"current":0,"lastupdated":"2022-01-16T13:21:15.750","power":0,"voltage":227},"t":"event","uniqueid":"84:fd:27:ff:fe:ce:97:9c-ff-0b04"} (ret = 183)
13:38:52:185 Websocket 172.17.0.1:41940 send message: {"attr":{"id":"161","lastannounced":"2022-01-16T15:16:09Z","lastseen":"2022-01-30T13:38Z","manufacturername":"_TZ3000_mraovvmm","modelid":"TS011F","name":"Consumption 161","swversion":null,"type":"ZHAConsumption","uniqueid":"84:fd:27:ff:fe:ce:97:9c-ff-0702"},"e":"changed","id":"161","r":"sensors","t":"event","uniqueid":"84:fd:27:ff:fe:ce:97:9c-ff-0702"} (ret = 355)
13:38:52:186 ZCL read attr 0x84FD27FFFED245B2, ep: 0x01, cl: 0x0006, attr: 0x0000, mfcode: 0x0000, aps.id: 72, zcl.seq: 170
13:38:52:187 Websocket 172.17.0.1:41940 send message: {"attr":{"id":"14","lastannounced":"2022-01-15T19:30:01Z","lastseen":"2022-01-30T13:38Z","manufacturername":"_TZ3000_mraovvmm","modelid":"TS011F","name":"PC JH","swversion":"67","type":"On/Off plug-in unit","uniqueid":"84:fd:27:ff:fe:ce:7c:45-01"},"e":"changed","id":"14","r":"lights","t":"event","uniqueid":"84:fd:27:ff:fe:ce:7c:45-01"} (ret = 337)
13:38:52:188 Websocket 172.17.0.1:41940 send message: {"attr":{"id":"268","lastannounced":"2022-01-15T19:30:01Z","lastseen":"2022-01-30T13:38Z","manufacturername":"_TZ3000_mraovvmm","modelid":"TS011F","name":"Power 268","swversion":null,"type":"ZHAPower","uniqueid":"84:fd:27:ff:fe:ce:7c:45-01-0b04"},"e":"changed","id":"268","r":"sensors","t":"event","uniqueid":"84:fd:27:ff:fe:ce:7c:45-01-0b04"} (ret = 343)
13:38:52:189 Websocket 172.17.0.1:41940 send message: {"e":"changed","id":"268","r":"sensors","state":{"current":254,"lastupdated":"2022-01-30T13:38:49.177","power":40,"voltage":234},"t":"event","uniqueid":"84:fd:27:ff:fe:ce:7c:45-01-0b04"} (ret = 186)
13:38:52:221 Websocket 172.17.0.1:41940 send message: {"attr":{"id":"267","lastannounced":"2022-01-15T19:30:01Z","lastseen":"2022-01-30T13:38Z","manufacturername":"_TZ3000_mraovvmm","modelid":"TS011F","name":"Consumption 267","swversion":null,"type":"ZHAConsumption","uniqueid":"84:fd:27:ff:fe:ce:7c:45-01-0702"},"e":"changed","id":"267","r":"sensors","t":"event","uniqueid":"84:fd:27:ff:fe:ce:7c:45-01-0702"} (ret = 355)
13:38:52:222 Websocket 172.17.0.1:41940 send message: {"attr":{"id":"4","lastannounced":"2022-01-17T18:07:24Z","lastseen":"2022-01-30T13:38Z","manufacturername":"_TZ3000_mraovvmm","modelid":"TS011F","name":"Lamp Woonkamer 1","swversion":"67","type":"On/Off plug-in unit","uniqueid":"84:fd:27:ff:fe:d2:45:44-01"},"e":"changed","id":"4","r":"lights","t":"event","uniqueid":"84:fd:27:ff:fe:d2:45:44-01"} (ret = 346)
13:38:52:229 Websocket 172.17.0.1:41940 send message: {"attr":{"id":"171","lastannounced":"2022-01-17T18:07:24Z","lastseen":"2022-01-30T13:38Z","manufacturername":"_TZ3000_mraovvmm","modelid":"TS011F","name":"Power 171","swversion":null,"type":"ZHAPower","uniqueid":"84:fd:27:ff:fe:d2:45:44-ff-0b04"},"e":"changed","id":"171","r":"sensors","t":"event","uniqueid":"84:fd:27:ff:fe:d2:45:44-ff-0b04"} (ret = 343)
13:38:52:230 Websocket 172.17.0.1:41940 send message: {"attr":{"id":"170","lastannounced":"2022-01-17T18:07:24Z","lastseen":"2022-01-30T13:38Z","manufacturername":"_TZ3000_mraovvmm","modelid":"TS011F","name":"Consumption 170","swversion":null,"type":"ZHAConsumption","uniqueid":"84:fd:27:ff:fe:d2:45:44-ff-0702"},"e":"changed","id":"170","r":"sensors","t":"event","uniqueid":"84:fd:27:ff:fe:d2:45:44-ff-0702"} (ret = 355)
13:38:57:997 [INFO] - No button map for: TS011F, unicast to: 0x0000, endpoint: 0x01, cluster: 0x0B04, command: 0x0A, payload: 0B05293300, zclSeq: 75
13:38:57:998 ZCL attribute report 0x84FD27FFFED245B2 for cluster: 0x0B04, ep: 0x01, frame control: 0x18, mfcode: 0x0000 
13:38:57:999 	payload: 0b05293300
13:38:57:999 Websocket 172.17.0.1:41940 send message: {"e":"changed","id":"170","r":"sensors","state":{"consumption":766,"lastupdated":"2022-01-16T13:21:00.948"},"t":"event","uniqueid":"84:fd:27:ff:fe:d2:45:44-ff-0702"} (ret = 165)
13:38:58:001 ZCL read attr 0x84FD27FFFECE7C45, ep: 0x01, cl: 0x0006, attr: 0x0000, mfcode: 0x0000, aps.id: 76, zcl.seq: 171
13:38:58:002 Websocket 172.17.0.1:41940 send message: {"attr":{"id":"19","lastannounced":"2022-01-17T19:21:03Z","lastseen":"2022-01-30T13:38Z","manufacturername":"_TZ3000_mraovvmm","modelid":"TS011F","name":"PC Dasha","swversion":"67","type":"On/Off plug-in unit","uniqueid":"84:fd:27:ff:fe:d2:45:b2-01"},"e":"changed","id":"19","r":"lights","t":"event","uniqueid":"84:fd:27:ff:fe:d2:45:b2-01"} (ret = 340)
13:38:58:003 Websocket 172.17.0.1:41940 send message: {"attr":{"id":"277","lastannounced":"2022-01-17T19:21:03Z","lastseen":"2022-01-30T13:38Z","manufacturername":"_TZ3000_mraovvmm","modelid":"TS011F","name":"Power 277","swversion":null,"type":"ZHAPower","uniqueid":"84:fd:27:ff:fe:d2:45:b2-01-0b04"},"e":"changed","id":"277","r":"sensors","t":"event","uniqueid":"84:fd:27:ff:fe:d2:45:b2-01-0b04"} (ret = 343)
13:38:58:004 Websocket 172.17.0.1:41940 send message: {"e":"changed","id":"277","r":"sensors","state":{"current":301,"lastupdated":"2022-01-30T13:38:52.313","power":51,"voltage":229},"t":"event","uniqueid":"84:fd:27:ff:fe:d2:45:b2-01-0b04"} (ret = 186)
13:38:58:006 Websocket 172.17.0.1:41940 send message: {"attr":{"id":"276","lastannounced":"2022-01-17T19:21:03Z","lastseen":"2022-01-30T13:38Z","manufacturername":"_TZ3000_mraovvmm","modelid":"TS011F","name":"Consumption 276","swversion":null,"type":"ZHAConsumption","uniqueid":"84:fd:27:ff:fe:d2:45:b2-01-0702"},"e":"changed","id":"276","r":"sensors","t":"event","uniqueid":"84:fd:27:ff:fe:d2:45:b2-01-0702"} (ret = 355)
13:38:58:007 Websocket 172.17.0.1:41940 send message: {"e":"changed","id":"276","r":"sensors","state":{"consumption":17360,"lastupdated":"2022-01-30T13:38:55.940","power":51},"t":"event","uniqueid":"84:fd:27:ff:fe:d2:45:b2-01-0702"} (ret = 178)
13:38:58:008 ZCL read attr 0x84FD27FFFECE99DC, ep: 0x01, cl: 0x0006, attr: 0x0000, mfcode: 0x0000, aps.id: 77, zcl.seq: 172
13:38:58:011 DB save zll database items 0x00000081
13:38:58:012 DB sql exec REPLACE INTO nodes (id, state, mac, name, groups, endpoint, modelid, manufacturername, swbuildid, ritems) VALUES ('14', 'normal', '84:fd:27:ff:fe:ce:7c:45-01', 'PC JH', '65520', '1', 'TS011F', '_TZ3000_mraovvmm', '67', '{"attr/id":"14","attr/lastannounced":"2022-01-15T19:30:01Z","attr/lastseen":"2022-01-30T13:38Z","attr/manufacturername":"_TZ3000_mraovvmm","attr/modelid":"TS011F","attr/name":"PC JH","attr/swversion":"67","attr/type":"On/Off plug-in unit","attr/uniqueid":"84:fd:27:ff:fe:ce:7c:45-01","state/alert":"none","state/on":true,"state/reachable":true}')
13:38:58:013 DB sql exec REPLACE INTO nodes (id, state, mac, name, groups, endpoint, modelid, manufacturername, swbuildid, ritems) VALUES ('24', 'normal', 'bc:33:ac:ff:fe:2b:f6:52-01', 'Keuken Spot 2', '65520,16', '1', 'TRADFRI bulb GU10 WW 400lm', 'IKEA of Sweden', '2.1.022', '{"attr/id":"24","attr/lastannounced":"2022-01-30T07:37:56Z","attr/lastseen":"2022-01-30T13:38Z","attr/manufacturername":"IKEA of Sweden","attr/modelid":"TRADFRI bulb GU10 WW 400lm","attr/name":"Keuken Spot 2","attr/swversion":"2.1.022","attr/type":"Dimmable light","attr/uniqueid":"bc:33:ac:ff:fe:2b:f6:52-01","state/alert":"none","state/bri":254,"state/on":false,"state/reachable":true}')
13:38:58:014 DB sql exec REPLACE INTO nodes (id, state, mac, name, groups, endpoint, modelid, manufacturername, swbuildid, ritems) VALUES ('28', 'normal', '00:15:8d:00:05:20:f4:43-01', 'Lamp JH', '65520,11', '1', 'lumi.light.aqcn02', 'LUMI', '11-22-2018', '{"attr/id":"28","attr/lastannounced":"2022-01-21T06:04:18Z","attr/lastseen":"2022-01-30T13:38Z","attr/manufacturername":"LUMI","attr/modelid":"lumi.light.aqcn02","attr/name":"Lamp JH","attr/swversion":"11-22-2018","attr/type":"Color temperature light","attr/uniqueid":"00:15:8d:00:05:20:f4:43-01","config/colorcapabilities":16,"config/ctmax":65279,"config/ctmin":null,"state/alert":"none","state/bri":null,"state/colormode":"ct","state/ct":327,"state/on":false,"state/reachable":true}')
13:38:58:016 DB sql exec REPLACE INTO nodes (id, state, mac, name, groups, endpoint, modelid, manufacturername, swbuildid, ritems) VALUES ('49', 'normal', '84:fd:27:ff:fe:ce:97:9c-01', 'Bed', '65520', '1', 'TS011F', '_TZ3000_mraovvmm', '67', '{"attr/id":"49","attr/lastannounced":"2022-01-16T15:16:09Z","attr/lastseen":"2022-01-30T13:38Z","attr/manufacturername":"_TZ3000_mraovvmm","attr/modelid":"TS011F","attr/name":"Bed","attr/swversion":"67","attr/type":"On/Off plug-in unit","attr/uniqueid":"84:fd:27:ff:fe:ce:97:9c-01","state/alert":"none","state/on":false,"state/reachable":true}')
13:38:58:017 DB sql exec REPLACE INTO nodes (id, state, mac, name, groups, endpoint, modelid, manufacturername, swbuildid, ritems) VALUES ('19', 'normal', '84:fd:27:ff:fe:d2:45:b2-01', 'PC Dasha', '65520', '1', 'TS011F', '_TZ3000_mraovvmm', '67', '{"attr/id":"19","attr/lastannounced":"2022-01-