Hello,
My zigbee network is getting worse and worse and I cant' understand why.
Here is my situation:
I live in an apartment of around 90 square meters,
My conbee 2 is connected to a raspberry pi4 8gb with ssd running Home assistant,
I have 62 nodes (aqara, lightify, sonoff, frient and tuya zigbee)
My router is set to channel 1 and the zigbee network to 25 (the neighbours wifi goes from 3 to 11),
I've tried various lenght of usb extender
Both ssd and deconz are connected to USB 2 and there's nothing on USB 3
Conbee II is in the center of the house and re wifi router is in another room about 3 meters distant (and 2 walls)
I've tried moving the conbee II in various place and tried to install phoscon (the image on the website) in a raspberry 3 b+ and place it in other places but nothing changed
I can't disable wifi 2.4ghz since there are wifi device that uses it
everything is updated to the most recent version
The network became unresponsive the most frequent issue is door/window sensor not updatig on state change (I also tried to replace all the sonoff sensors with aqara ones) and sometimes also router devices like switches and bulbs. I constantly need to repair the connection on phoscon.
the debug log is filled with errors:
08:28:26:520 0xA4C138D5E4E8D375 error APSDE-DATA.confirm: 0xE9 on task
08:28:29:736 ZCL attribute report 0x7CB03EAA0A0AFA59 for cluster: 0x0006, ep: 0x03, frame control: 0x18, mfcode: 0x0000
08:28:37:742 0x84FD27FFFE68DF09 force poll (2)
08:28:37:758 ZCL attribute report 0x84FD27FFFE68DF09 for cluster: 0x0006, ep: 0x01, frame control: 0x18, mfcode: 0x0000
08:28:42:239 0xA4C13861CEFDC9AF error APSDE-DATA.confirm: 0xE9 on task
08:28:50:092 ZCL attribute report 0x7CB03EAA00A961C9 for cluster: 0x0006, ep: 0x03, frame control: 0x18, mfcode: 0x0000
08:28:50:113 ZCL attribute report 0x7CB03EAA00A961C9 for cluster: 0x0008, ep: 0x03, frame control: 0x18, mfcode: 0x0000
08:28:50:129 ZCL attribute report 0x7CB03EAA00A961C9 for cluster: 0x0300, ep: 0x03, frame control: 0x18, mfcode: 0x0000
08:28:50:137 ZCL attribute report 0x7CB03EAA00A961C9 for cluster: 0x0300, ep: 0x03, frame control: 0x18, mfcode: 0x0000
08:28:50:726 reuse dead link (dead link container size now 5)
08:28:52:350 ZCL attribute report 0xF0D1B80000188FFA for cluster: 0x0300, ep: 0x01, frame control: 0x08, mfcode: 0x0000
08:28:57:041 ZCL attribute report 0x84FD27FFFE3B18AF for cluster: 0x0006, ep: 0x01, frame control: 0x08, mfcode: 0x0000
08:29:07:537 0xA4C138D5E4E8D375 error APSDE-DATA.confirm: 0xE9 on task
08:29:11:718 Device TTL 2939 s flags: 0x7
08:29:13:239 ZCL attribute report 0xF0D1B80000189AFA for cluster: 0x0006, ep: 0x01, frame control: 0x08, mfcode: 0x0000
08:29:13:277 ZCL attribute report 0xF0D1B80000189AFA for cluster: 0x0008, ep: 0x01, frame control: 0x08, mfcode: 0x0000
08:29:22:270 ZCL attribute report 0x00124B0025006370 for cluster: 0x0402, ep: 0x01, frame control: 0x18, mfcode: 0x0000
08:29:25:021 ZCL attribute report 0x842E14FFFE5DB280 for cluster: 0x0006, ep: 0x01, frame control: 0x08, mfcode: 0x0000
08:29:25:685 ZCL attribute report 0x0015BC001B021CD0 for cluster: 0x0702, ep: 0x02, frame control: 0x18, mfcode: 0x0000
08:29:32:737 0xA4C13861CEFDC9AF error APSDE-DATA.confirm: 0xE9 on task
08:29:32:879 ZCL attribute report 0x00158D000836D5BB for cluster: 0x0000, ep: 0x01, frame control: 0x1C, mfcode: 0x115F
08:29:34:720 0x7CB03EAA00AA45D9 error APSDE-DATA.confirm: 0xE9 on task
08:29:36:269 ZCL attribute report 0xF0D1B80000192241 for cluster: 0x0300, ep: 0x01, frame control: 0x08, mfcode: 0x0000
08:29:45:736 ZCL attribute report 0x0015BC001B021CD0 for cluster: 0x0702, ep: 0x02, frame control: 0x18, mfcode: 0x0000
08:30:33:487 unhandled APS-DATA.confirm id: 58 status 0xE1
08:30:34:559 unhandled APS-DATA.confirm id: 65 status 0xE1
08:31:26:444 unhandled APS-DATA.confirm id: 132 status 0xE1
08:34:17:639 unhandled APS-DATA.confirm id: 54 status 0xE1
08:34:33:430 unhandled APS-DATA.confirm id: 151 status 0xE1
08:37:34:528 unhandled APS-DATA.confirm id: 166 status 0xE1
08:39:33:517 unhandled APS-DATA.confirm id: 59 status 0xE1
08:40:17:613 unhandled APS-DATA.confirm id: 38 status 0xE1
08:41:26:505 unhandled APS-DATA.confirm id: 182 status 0xE1
08:42:17:654 unhandled APS-DATA.confirm id: 201 status 0xE1
08:43:32:272 unhandled APS-DATA.confirm id: 103 status 0xE1
08:46:34:692 unhandled APS-DATA.confirm id: 150 status 0xE1
08:48:33:564 unhandled APS-DATA.confirm id: 42 status 0xE1
08:50:26:571 unhandled APS-DATA.confirm id: 201 status 0xE1
08:53:32:343 unhandled APS-DATA.confirm id: 236 status 0xE1
08:54:26:416 unhandled APS-DATA.confirm id: 18 status 0xE1
08:55:17:560 unhandled APS-DATA.confirm id: 28 status 0xE1
Here is my network: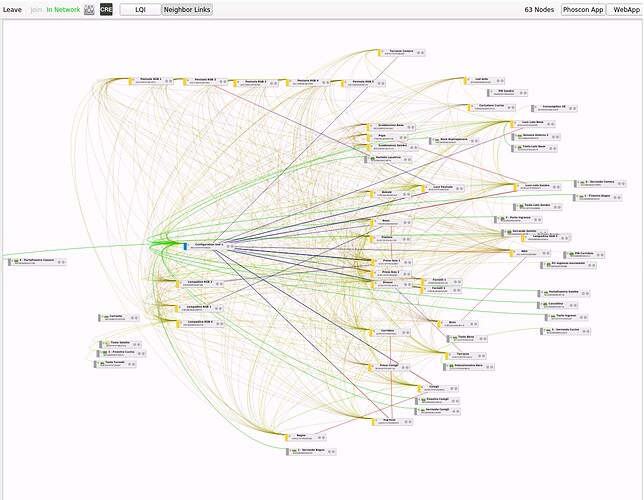 Is there someone that has any suggestion plaease? I'm really desperate