Hi there,
I am facing a problem with a moisture sensor: in Phoscon App (and therefore in openhab) the sensor does not show all measured values, but only some of them. Light [Lux], pressure [hPa] and humidity [%] - all of them are 0 since the sensor does not measure them, but the chip is actually prepared to measure it. Additionally, the battery SOC [%] is shown correctly. Unfortunately the only value which I am interested in is moisture which is not shown: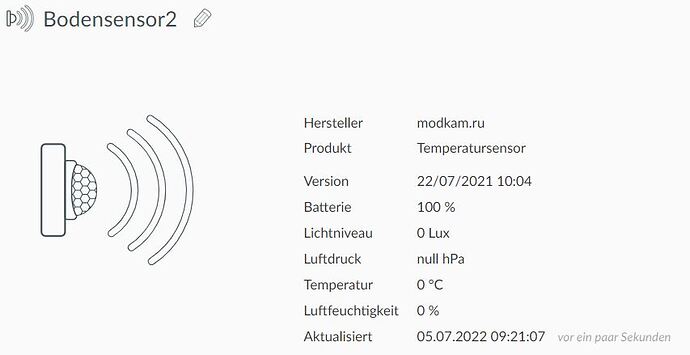 I guess that the moisture is measured since "last updated" shows "now" or "a few seconds ago" immediately after putting the sensor in water. Also deconz shows a "soil moisture" channel, but there all values in cluster info are shown as 0 as well: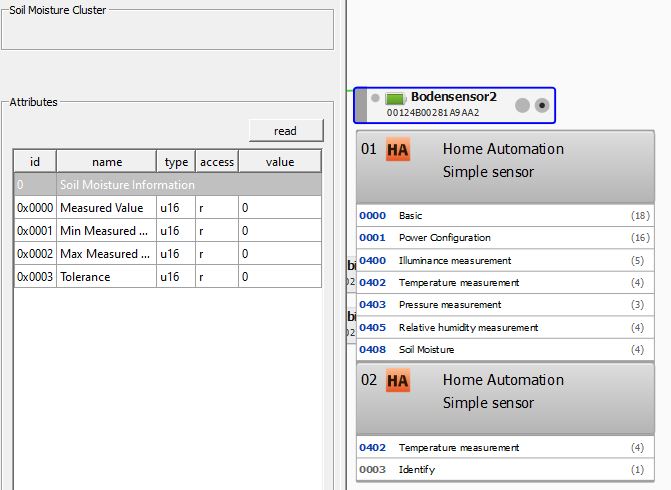 I am not sure if the measured value should be shown correctly here, at least other sensors do show a measured value different than 0 but it's not like 25°C e.g. for a temperature sensor. So maybe there is more than the issue that the channel is not shown at all?
It would be great if you may help me how to manually add (?) the moisture channel to show in Phoscon App as those values are shown in openhab where I am handling this value. Or did I do something wrong during pairing? I did the pairing in Phoscon App a few times meanwhile and it worked properly and directly within a few seconds all the time. But always moisture is not shown.
I am using deconz for several sensor, but "only" to get them into openhab. That's why I am not really skilled in deconz and don't have any idea what to do - just to be honest

Thanks for your help!
wosch
Version: 2.14.01 / 6.2.2022
Firmware: 26720700