Hi,
I just integrated a GE45856 wall switch with energy metering in my network (buying link).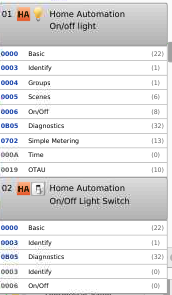 The actual code seems to have it working quite fine but the power that seems to keep to zero value.
So I wanted to generate an DDF file to have it fully supported but the DDF generated by Deconz-GUI editor seems weird to me I and need some help because I never had to deal with some "groupcast" bindings before, nor "state/buttonevent" attributes.
Then need some help to understand all of that. Especially since on the Domoticz side it creates a device which usefullnes seems to be based on buttonevent.

{
  "schema": "devcap1.schema.json",
  "manufacturername": "Jasco Products",
  "modelid": "45856",
  "product": "45856",
  "sleeper": false,
  "status": "Draft",
  "subdevices": [
    {
      "type": "$TYPE_ON_OFF_LIGHT",
      "restapi": "/lights",
      "uuid": [
        "$address.ext",
        "0x01"
      ],
      "items": [
        {
          "name": "attr/id"
        },
        {
          "name": "attr/lastannounced"
        },
        {
          "name": "attr/lastseen"
        },
        {
          "name": "attr/manufacturername"
        },
        {
          "name": "attr/modelid"
        },
        {
          "name": "attr/name"
        },
        {
          "name": "attr/swversion"
        },
        {
          "name": "attr/type"
        },
        {
          "name": "attr/uniqueid"
        },
        {
          "name": "state/alert",
          "description": "The currently active alert effect.",
          "default": "none"
        },
        {
          "name": "state/on",
          "description": "True when device is on; false when off.",
          "refresh.interval": 5
        },
        {
          "name": "state/reachable"
        }
      ]
    },
    {
      "type": "$TYPE_SWITCH",
      "restapi": "/sensors",
      "uuid": [
        "$address.ext",
        "0x02",
        "0x0006"
      ],
      "fingerprint": {
        "profile": "0x0104",
        "device": "0x0103",
        "endpoint": "0x02",
        "in": [
          "0x0000"
        ],
        "out": [
          "0x0006"
        ]
      },
      "items": [
        {
          "name": "attr/id"
        },
        {
          "name": "attr/lastannounced"
        },
        {
          "name": "attr/lastseen"
        },
        {
          "name": "attr/manufacturername"
        },
        {
          "name": "attr/modelid"
        },
        {
          "name": "attr/name"
        },
        {
          "name": "attr/swversion"
        },
        {
          "name": "attr/type"
        },
        {
          "name": "attr/uniqueid"
        },
        {
          "name": "config/on"
        },
        {
          "name": "config/reachable"
        },
        {
          "name": "state/buttonevent",
          "description": "The last received button event."
        },
        {
          "name": "state/lastupdated"
        }
      ]
    },
    {
      "type": "$TYPE_CONSUMPTION_SENSOR",
      "restapi": "/sensors",
      "uuid": [
        "$address.ext",
        "0x01",
        "0x0702"
      ],
      "fingerprint": {
        "profile": "0x0104",
        "device": "0x0100",
        "endpoint": "0x01",
        "in": [
          "0x0000",
          "0x0702"
        ]
      },
      "items": [
        {
          "name": "attr/id"
        },
        {
          "name": "attr/lastannounced"
        },
        {
          "name": "attr/lastseen"
        },
        {
          "name": "attr/manufacturername"
        },
        {
          "name": "attr/modelid"
        },
        {
          "name": "attr/name"
        },
        {
          "name": "attr/swversion"
        },
        {
          "name": "attr/type"
        },
        {
          "name": "attr/uniqueid"
        },
        {
          "name": "config/on"
        },
        {
          "name": "config/reachable"
        },
        {
          "name": "state/consumption",
          "description": "The measured consumption (in Wh).",
          "refresh.interval": 300,
          "default": 0
        },
        {
          "name": "state/lastupdated"
        },
        {
          "name": "state/power",
          "description": "The measured power (in W).",
          "refresh.interval": 300,
          "default": 0
        }
      ]
    }
  ],
  "bindings": [
    {
      "bind": "unicast",
      "src.ep": 1,
      "dst.ep": 1,
      "cl": "0x0702",
      "report": [
        {
          "at": "0x0000",
          "dt": "0x25",
          "min": 1,
          "max": 300,
          "change": "0x00000001"
        },
        {
          "at": "0x0400",
          "dt": "0x2A",
          "min": 1,
          "max": 300,
          "change": "0x00000001"
        }
      ]
    },
    {
      "bind": "groupcast",
      "config.group": 104,
      "src.ep": 1,
      "cl": "0x2000"
    },
    {
      "bind": "unicast",
      "src.ep": 1,
      "dst.ep": 1,
      "cl": "0x0006",
      "report": [
        {
          "at": "0x0000",
          "dt": "0x10",
          "min": 1,
          "max": 300
        }
      ]
    }
  ]
}

Hope @Smanar could help me