Hi,
I've successfully integrated the Aqara - double rocker without neutral [Aqara H1 EU Wall Switch (No Neutral, Double Rocker) (WS-EUK02) Zigbee compatibility]
through my Phoscon (2.17.01 / 26780700)
It is recognized as lumi.switch.l2aeu1

so far all looks good.
I created a Group and put both light into.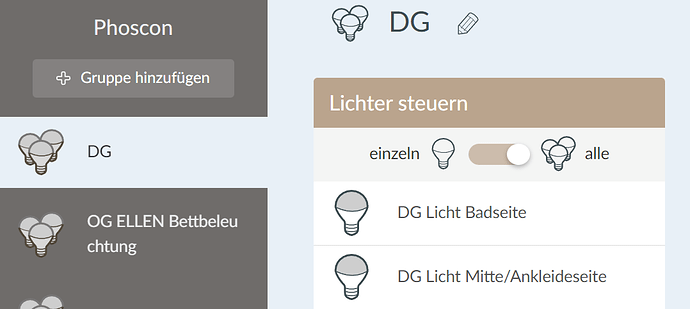 When I switch a single light, it works as expected. switch on and off.
When I switch the Group, in the real world nothings happen.
The Bulb-Symbols in Phoscon and hue Essentials are switching as expected, but at the real world remains dark.
Push to the Aqara Button locally, it switches the associated light as expected.
I bind a TRADFRI Button to the Phoscon-App. It switch also the "Group", but in reality also nothing would be light up.
I want switch both lights with the tradfri button at a attic ladder.
How can I fix that?